Oleh Slupchynskyj, MD, FACS is a
Double Board Certified, Manhattan
Based Facial Plastic and Reconstructive
Surgeon and Recognized Expert in
Facelift and Rhinoplasty Surgery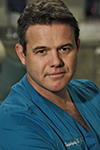 Dr. Slupchynskyj is a preeminent New York City Facial Plastic Surgeon specializing in Facial Plastic and Reconstructive Surgery and is Director and Founder of The Aesthetic Institute of New York & New Jersey. He is one of only a handful of Facial Plastic Surgeons in the U.S.A. who is Double Board Certified in Facial Plastic and Reconstructive Surgery, as well as Head and Neck Surgery. Offering 18 years of experience, Dr. Slupchynskyj is a true innovator of Facial Cosmetic Surgical techniques requiring much less recovery and healing time, producing unequalled natural results – all a result of his superior and proven surgical skills. He is the inventor of the SLUPlift™ facelift (as seen on CBS 2 News), and SLUPimplant™ for Rhinoplasty Augmentation Surgery. Dr. Slupchynskyj is a contributor to and author of many published articles, including his landmark article on high patient satisfaction as a result of his advanced surgical techniques in Ethnic Rhinoplasty.
Dr. Slupchynskyj's training is known to be among the best in Facial Plastic Surgery. He received his undergraduate degree at Fordham University where he graduated magna cum laude. While at Fordham, Dr. Slupchynskyj was a member of Alpha Sigma Nu Honor Society, became president of Emergency Medical Services and received the M. Passarelli Science Award. Dr. Slupchynskyj continued to New York Medical College where he received his medical degree and once again graduated at the top of his class. He then completed his two-year General Surgery Residency at St. Vincent's Hospital and Medical Center, and his four-year Otolaryngology, Head and Neck Surgery Residency at the distinguished New York Eye and Ear Infirmary in Manhattan. Dr. Slupchynskyj was selected for an American Academy of Facial Plastic and Reconstructive Surgery sponsored Fellowship at the Lindsay House Center for Cosmetic and Reconstructive Surgery and the University of Rochester in Rochester, New York. Dr. Slupchynskyj's comprehensive training and experience in Head, Neck and Face Surgery give him a true understanding of the face versus that of a general surgeon who operates on the entire body (i.e. breasts, Body Liposuction, etc.) and is not specifically trained to operate on the head, face and neck for aesthetic or reconstructive purposes.
Patients of Dr. Slupchynskyj come to see him from international locations around the world and just about every state in the U.S. His patients include medical professionals, television and movie actors, politicians, sports figures, musical entertainment celebrities, Fortune 500 executives, television newscasters, fashion models, teachers, sales and marketing managers, stay-at-home-Moms, Dads, and students.
As a leading Facial Plastic Surgeon, Dr. Slupchynskyj specializes in minimally invasive Facelift Surgery; Revision Facelift Surgery; Rhinoplasty; Revision Rhinoplasty Surgery; Endoscopic Brow Lift; Mid-Facelift; Upper Eyelid Lift and Lower Eyelid Lift; Chin, Jaw, Cheek Augmentation and Sculpting; Nose Surgery; Revision Nose Surgery; Ear Surgery; Revision Ear Surgery; Neck Liposuction; Lip Augmentation; and Lip Reduction.
Since Dr. Slupchynskyj is an expert in facial aging and rejuvenation, his patients also seek him out for non-surgical procedures, which include Fat Grafting, Botox®™, Belotero®™, Juvederm®™, Radiesse®™, Sculptra®™, and Restylane®™. Allergen, the makers of Botox®™, asked Dr. Slupchynskyj to be one of the first Plastic Surgeons in New York City of offer live demonstrations of their injectable filler, JUVÉDERM®™, prior to its debut.
Dr. Slupchynskyj was named one of America's Best Doctors for 2013 by U.S. News and World Report and was voted by his peers as a 2013, 2014, 2015, and 2016 Top Doctor by New York Magazine and Castle Connolly Medical, Ltd. He is a Fellow of the American College of Surgeons, a Diplomat with the National Board of Medical Examiners and a member of the following prominent Medical Societies: American Academy of Facial Plastic and Reconstructive Surgery, American Academy of Otolaryngology, New York County Medical Society, American Academy of Otolaryngology Allergy, American Academy of Cosmetic Surgery, American Academy of Anti-Aging Medicine.
Regularly sought out by the media to report on his surgical techniques, Dr. Slupchynskyj has been featured on ABC Nightline, NY 1 News, CBS 2 News, New York Magzine, The New York Daily News, Vogue, Redbook, Gotham, Woman's World, Jane, Time Out NY, Cosmetic Surgery Times, Medical News Today, and Morris Essex Magazine.
Dr. Slupchynskyj's medical office in New York City is located in what is considered to be the toniest of neighborhoods in Manhattan. Nestled in a beautiful brownstone on 65th Street in between Park and Madison Avenues, our office offers immediate comfort and privacy, which many of his patients require and demand. His New Jersey office is located within the acclaimed St. Barnabas Ambulatory Care Center in Livingston, NJ and is convenient to all area airports, only 35 minutes from New York City.
Top Ten Reasons to Choose Dr. Oleh Slupchynskyj
Dr. Slupchynskyj is associated with and has privileges to perform surgery at the following top hospitals and surgical centers in the U.S.:
Lenox Hill Hospital, New York, NY
The Manhattan Eye, Ear and Throat Hospital, New York, NY
The New York Eye and Ear Infirmary, New York, NY
St. Barnabas Hospital, Livingston, NJ
St. Barnabas Ambulatory Care and Surgery Center, Livingston, NJ
Dr. Slupchynskyj is a Member of the American Academy of Anti-Aging Medicine.