Rhinoplasty in New York - Dr. Oleh Slupchynskyj
Serving Nose Surgery Patients in Manhattan / NYC / NJ
The aesthetically pleasing nose is one that fits your face with a nice shape and in the correct proportions. A short nose does not fit a long face. A big nose does not fit a petite face and a feminine nose does not fit a masculine face. The key is shape and proportions. Some of the most beautiful faces are those that have perfect symmetry and facial balance. At The Aesthetic Facial Surgery Center of New York, we try to improve the shape and size of your nose, so that it is in better balance with your face. Our experienced Rhinoplasty Surgeon, Dr. Oleh Slupchynskyj, provides professional care and superior results, and can help get you the nose you desire. If you are considering Nose Surgery, you can find useful information on this website.
Castle Connolly, the nation's most trusted source for identifying Top Doctors,
has selected Dr. Oleh Slupchynskyj as a Top Doctor for 2013 and 2014.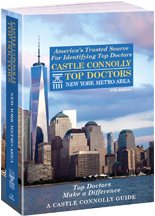 Dr. Oleh Slupchynskyj voted by medical professionals
as Top Doctor to New York Magazine's Best Doctors for
2013 and 2014.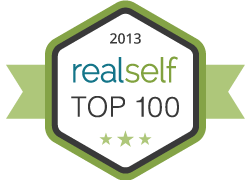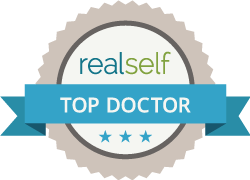 Dr. Oleh Slupchynskyj recognized as one of
America's Best Doctors by U.S. News and World Report.
An actual patient of
Dr. Slupchynskyj
discusses her
Rhinoplasty.
New York City Rhinoplasty patient
discusses her Nose Job procedure,
performed by Dr. Oleh Slupchynskyj.

The History of the Rhinoplasty Procedure
Rhinoplasty as a reconstructive surgery was a direct result of war, disease and "gentleman sports." In ancient India, the nose was cut off to punish adulterers. In Renaissance Italy, the need for reconstructive procedures was great because facial mutilations occurred frequently as a result of trauma, dueling, and disease. It was not until much later that Rhinoplasty was performed as a form of Facial Cosmetic Surgery.
Cosmetic Rhinoplasty is a term used to describe an elective surgical change to the nose; surgery not needed as a result of trauma, disease or congenital malformation. It is simply a change to ones nose because they want it to look different. Historically, nose surgery was something that only the elite or wealthy pursued. It was neither widely available nor affordable to the general public. Early Cosmetic Rhinoplasty changes were drastic and not as refined as what can be achieved today. In the past, (and still practiced by many surgeons) results were severe; the common theme was major nasal reduction. People wanted tiny noses that let people know that they had their nose done. So what we saw were small "pug noses," "ski-slope noses," and noses named after their surgeon. Unfortunately, some surgeons are still producing results like that.
As a well-trained and educated facial plastic surgeon, Dr. Oleh Slupchynskyj is able to produce beautiful, natural-looking results for his patients. In fact, he often performs Revision Rhinoplasty for patients who were not able to achieve their desired results from another surgeon. Dr. Slupchynskyj considers a good Rhinoplasty one that results in a nose that fits the patient's face!
How do we Know What Will Fit Your Face?
First, we define what is considered an aesthetically pleasing nose. The concept of a beautiful nose has changed in part as surgical techniques became more refined and also as surgeons learned to create the nose that fits the face and not the nose that fits the surgeon. In the past we have seen many noses that were actually "named" after their surgeon. The nose is the focal point of the face and can be the most defining characteristic. Whether long, crooked, ethnic, "daddy's," large hump, sagging tip...Whatever the trait, it defines the face.
The aesthetically pleasing nose is one that fits your face. We evaluate the face by looking at it in thirds or fifths to determine facial balance, which gives facial harmony and thus facial beauty. Some of the most beautiful faces are those that have perfect symmetry and facial balance. What we try to do is put your nose in better balance with your face. Sometimes changing just the nose will not give you facial balance. For this reason it is necessary to consider other procedures to help put your face in balance. Augmenting the cheek bones, chin projection (or reduction) and lip augmentation are just some of the more common procedures that we do to produce better facial balance.
If you are unhappy with the appearance of your nose, and are interested in improving your features through Rhinoplasty Surgery, contact the offices of Dr. Oleh Slupchynskyj today to schedule a comprehensive consultation.